So although it's April Fools Day, there will be no jokes here. I understand that while you are reading this you might already have an allegiance to a specific team, but I implore you to Think Blue and step into the magical little world of DodgerTown (the stadium has its own zip code 90090).
Opening Day at Dodger's Stadium was finished with glorious 2-1 victory over the Giants (march 31st). The World Series Champions are looking to defend their title, so it was nice to make them start their season 1 step behind us. What I'm about to spit is straight facts and heavily researched data. It is a common statement that "The Dodgers are the greatest baseball team ever!" end statement. So now let's look at some reasons why.
The Dodgers Love
That's right we love. We give back and love and share all our Dodger magic everywhere we go.Young pitcher Klayton Kershaw (23 years old)is donating $
100 for each of his strikeouts during the 2011 season to Arise Africa, a non-profit organization dedicated to helping end poverty on the continent.
Now that is a quality player. I would rather my players spend their money helping the world than getting
spray tans
(shout out to A-rod). Oh and P.S. Thank you to the Giants for donating $900 to Arise Africa last night. KKKKKKKKK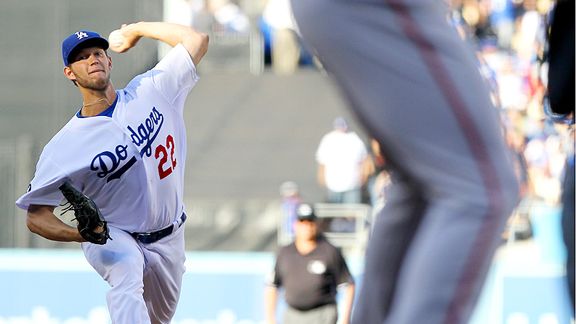 We are True Blue
Dodgers are a franchise seeped in tradition. When it comes to being an O.G. Dodgers are a team that should come to mind. We have one of the oldest stadiums in the the league (behind Fenway Park in Boston and Wrigley Field in Chicago,) and is the largest ballpark by seating capacity. Our uniforms have also stayed consistent for over 70 years. We also still have an actual organ player in the stadium Nancy Bea Hefley, who has been with the team for over 20 years. None of that recorded crap here. Last but not least Vin Scully. The talk of our town. The voice of our team. He has been calling Dodger games for over 60 years. Long story: Tradition runs deep throughout the franchise.
Best Fans in the League
Lets talk about fan base. We rock at getting people to come to our games. We set a franchise record in 2009 with over 3.8 million fans in attendance that season. That year we led the MLB in total attendance. We have had 15 consecutive seasons of over 3 million fans a season (longest streak in the MLB). Dodgers were also the first team to reach 1 million fans in a season and we did it 3 times before another team even did it once. This relentless and loyal attitude comes from fans like
Nettie Berkson
. A 95 year old lady who has been to more baseball games than double the number of years you've been alive! She has gone to every Dodgers Opening Day game since 1962 (that's 53 years). That is what you call love!
Remember I speak from the heart not the stats sheet. I never said we were the most winning-est team in the league, the fact I am stating is that we are a team that is awesome, should be respected, and should be feared. Lesson Learned: Think Blue!